Our annual goal: cellaring the vintage
The winemaker's wine year revolves around an existential goal: the cellaring of the grapes for wine pressing.
This may sound trivial, but it is complex, because cellaring grapes is subject to many factors that cannot be influenced, often the weather. Last year was too rainy and a large part of the harvest was destroyed by downy mildew. Frost, which has recently caused tension every spring due to global warming, is also a factor that can be influenced only minimally. And again, hail can also damage or even destroy part of our harvest in the summertime.
Good wine is made in the vineyard, which is why the work there must be carried out with much care and just as rigorously as in the cellar.
Likewise, the choice of the right seasonal workers is always a lottery. Those who do not feel like doing demanding work in the vineyard either remain sitting in the shade or run away. If the foliage work is not done on time, this can lead to increased disease pressure in the vineyard. Employees who are faithful to the job and can be relied on are in principle rare and irreplaceable. We have had Felix for 4 years, who accompanies us into the vines and now knows by heart the seasonal work as well as the location and the peculiarities of our various plots. A pearl of a man, always cheerful, who always knows how to tell unbelievable and funny stories that make for a good mood, especially at harvest time.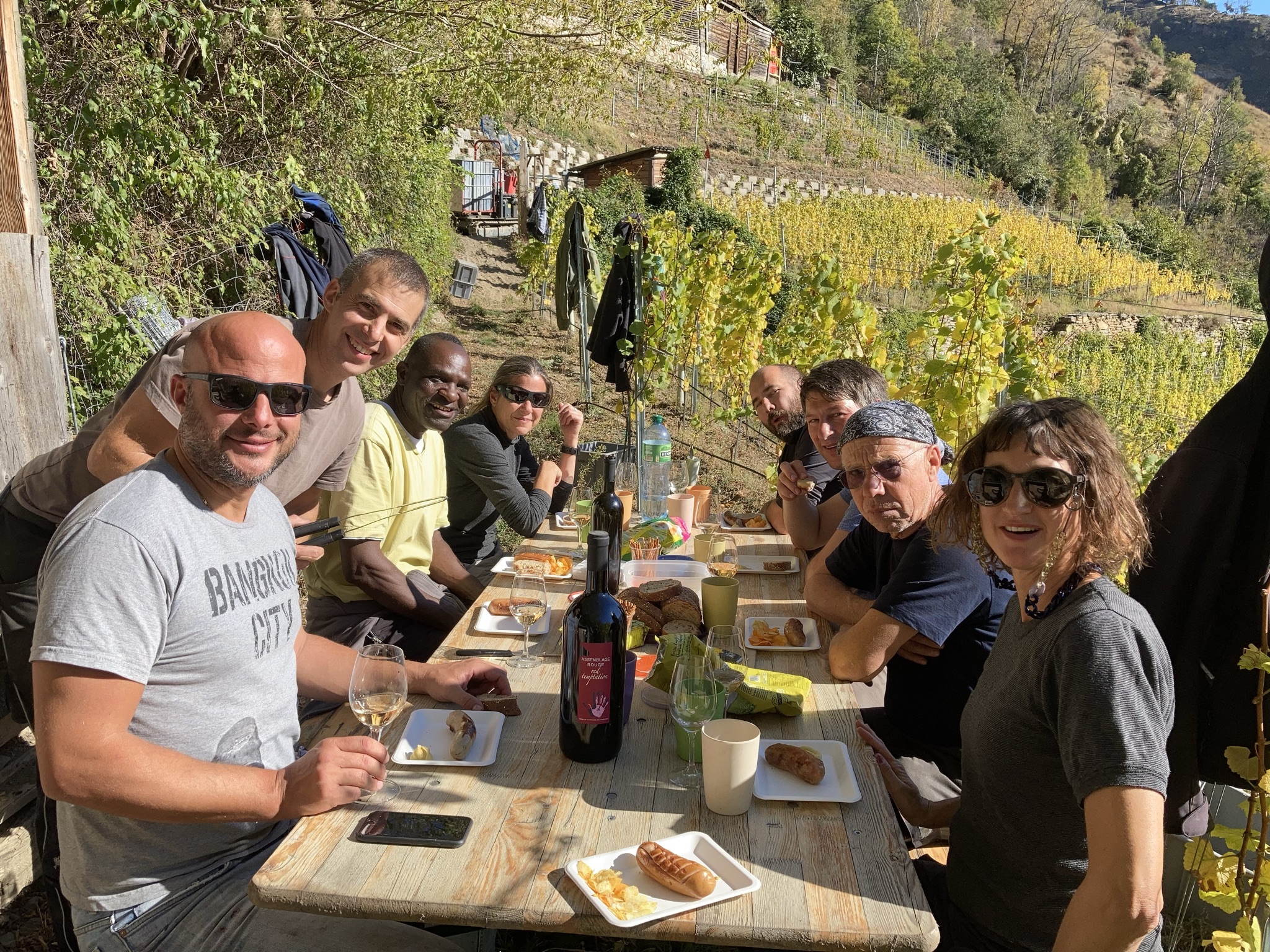 A simple lunch in our vineyards during harvest.

Now, in August, we have the final spurt in front of us, where it's all about the details:
How far along are the grapes in their ripeness? How do the degree of Oechsle, pH, phenolic ripeness (tannins) and acidity levels behave? With these questions, we determine the ideal harvest time for each grape variety.
Are there threats, such as the suzukii fly or days of rain, when we should be harvesting earlier?
How are the grapes that arrive at the cellar processed into wine? What kind of vinification do we choose to make the wine we have in mind? Oak (new wood or used) or steel tank aging?
What do we do if the power goes out, the press motor breaks down, or one of us – or worse – both get sick with Covid-19 or someone gets seriously injured? Do we need a plan B?
Are the machines running? Everything is cleaned and tested in advance. You could eat off the floor of a wine cellar each time, the equipment is so spotless before harvest starts.
Which wine goes into which tank? Based on yield estimates, the containers have to be allocated in advance, otherwise there will suddenly be a lack of containers during pressing.
Do we have at hand the necessary materials for pressing? Filtering soil, yeast, SO2, enzymes and analytical products must be organized in advance.
Do we have enough people for the harvest? What do we cook, who takes care of buying food in advance? Where do we put the people for the night?
Harvest is a logistical challenge that involves not only professional aspects but also private ones; after all, we have two kids, and they have other needs in addition to their numerous hobbies.

This year the grape harvest is starting already, at the end of August, and will last until October. We are looking forward to a healthy and hopefully productive vintage.
bottled and ready for you:
Gamaret 50cl
Humagne Rouge
Viognier